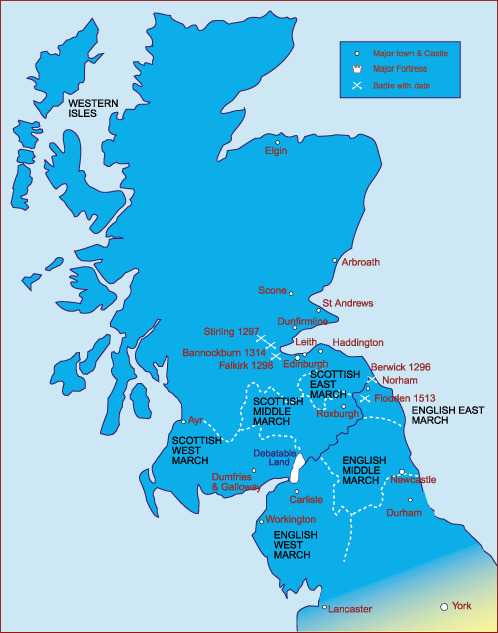 The "Borders" is that area of the British Isles, which separates Scotland and England, just north of the Roman era Hadrian's Wall. It is made up of the counties of Cumberland and Northumberland on the English side and Dumfrieshire, Roxburghshire and Berwickshire on the Scottish side. Broadly stated, both sides are divided into what are known as the West, Middle and East Marches.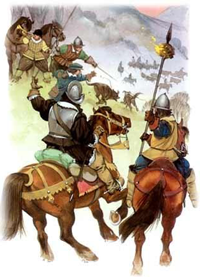 The history of this area is of tumultuous and chaotic unrest, at least as far back as Roman times. Until the early 1600s, when England and Scotland became one Kingdom, this area was basically ungoverned. For centuries this remote Anglo-Scottish borderland region was the lair of unruly clans and gangs of robbers that were mostly beyond the reach of any law. A peculiar form of clan organization grew up in this area. It existed from the Viking period and was enhanced during the many Anglo-Scottish conflicts from the eleventh to the eighteenth century. This was the land of the 'Border Reivers.'[2]
There were several Jameson families said to have been in the Middle Marches of this border region, mostly on the English side of the border in the Upper North Tyne River area. Jameson families can also be found on the Scottish side of the border, mainly in the Kelso area of Roxburghshire. As such, they were very likely Reivers and undoubtedly considered a clan by traditions of that area and time. Lowland clans were different from Highland clans, somewhat more based around individual families but with less structure and none of the grandiose we know and associate with the Highland clans.
The repopulation of Ulster, Ireland, particularly the area of County Antrim, starting in the early 1600's, was done, in part, with many families from the Border area of both England and Scotland. This was a deliberate effort to help reduce the historical difficulties in this entire region. The banishment of many so called 'convicts' to Australia and South Africa in the eighteenth century, was also made with many from this area for those same reasons.
The history of this area is rich in its descriptions of many of their people, their life and their conflicts, all of which is well documented elsewhere. As this is not intended to be a history of the Border regions, the interested reader is urged to separately seek out these colorful stories.
---